In Celebration of Black History Month
Did you know that Black musicians have contributed to British Cultural life since before the Roman period? This was just one of the amazing facts revealed by music industry consultant and historian Kwaku, founder of the Black Music Congress in London. Through a virtual presentation on the 'UK History of Black Musicians throughout the Ages' Kwaku uncovered many more insights as to how Black musicians have shaped every genre of music as we know it today.
The project was a collaboration between Diversity House, Ideas Test in Sittingbourne and Kwaku himself. It was created to celebrate Black History Month in October 2017 and participants were privileged to view and learn about the earliest known black musicians from John Blanke, a trumpeter in Tudor England, the classical composers of the eighteenth and nineteenth century, Ignatius Sancho and Samuel Coleridge-Taylor and the Fisk Jubilee Singers who introduced gospel music to Britain in the 1870s, to name but a few.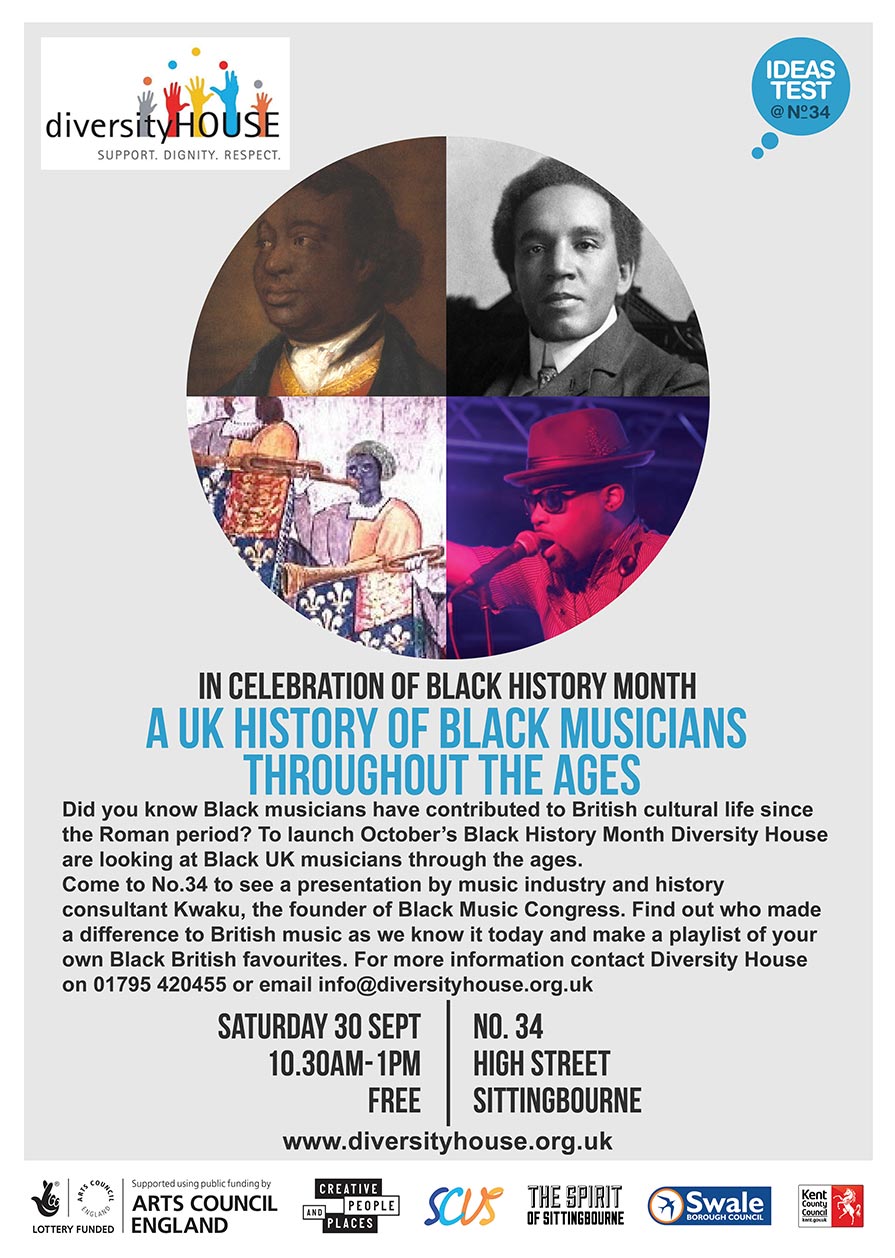 Later in the presentation, viewers got off their seats and rocked to some of the biggest hits from UK artists from the 1920s to present day including Winifred Atwell, the boogie -woogie and ragtime pianist, Millie Small of 'My Boy Lollipop' fame, 1970's band 'The Real Thing' up to the superstars of today, Emelie Sandie and Stormzy. While the older viewers swayed to the tunes of their favourite oldies, the younger ones put together a playlist of their favourite artists and found out who were the key influencers of the music stars of today.
In November, Diversity House took part in, ' The African History Month UK Network Conference' in London, organised by Kwaku to celebrate the 30 year anniversary of Black History Month in UK. The key figures in the struggle to establish the project were hailed and acknowledged and the question was raised as to where we go from here.