Back to School and the Western Front; St Michael's Junior School Trip to the Somme Battlefields in France
An account by Dr Anne Samson – Historian and Expert on WW1 & Africa
A two-day trip to the Western Front to learn about the First World War in Africa. This was the idea, but would it work? And how? As I know little to nothing about what happened on the European battlefields. Thankfully Dickie Knight from Anglia Tours would be leading proceedings and he knew a thing or two about the Western Front. We would double act with me 'butting' in when appropriate. But would this work to keep 40 ten-year-olds engaged?
By all accounts it seemed to, especially as the teachers and Christine Locke of Diversity House had worked with the young people to give them a basic knowledge base of World War 1 and Africa.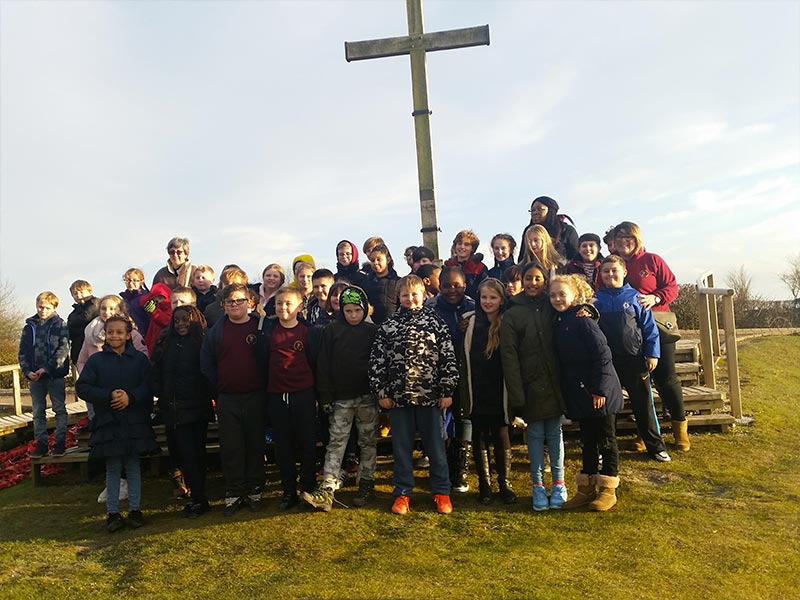 Our first stop was the French cemetery at Notre Dame de Lorette . This provided an opportunity to discuss the differences between French, British, Belgian and German colonial management. The French cemetery would further provide a visual comparison for when we got to the Commonwealth War Grave Commission sites. In the same cemetery there were Muslim graves. Muslims had played an important part in both the European and African theatres. With information from The Unknown Fallen we were able to see the instructions French Minister for War had issued regarding burial practices. This helped explain why the graves faced a slightly different direction (east) to the others in their uniformity.
A visit to the Ring of Remembrance provided an opportunity for everyone to discover the reach of the war – by finding their name. For most tour groups, everyone would likely find at least one mention of a family name. However, this trip proved the claim false. One young lass couldn't find mention of her name anywhere – she was Nigerian, and this opened a learning opportunity regarding which European powers used African troops in Europe and which did not. A subsequent search has identified a relative who participated in World War 1 (WO 372/2/182235) – I think there's going to be one happy young person when she's told, and I'm sure there'll be another learning opportunity at school.
Lochnagar Crater provided further opportunity to see how engaged the young people were as they went round making links with things they spotted such as the board to Edith Cavelle – a school block has recently been named in her honour. In contrast, mention was made of Brett Killington's project 64 stops where New Zealand miners burrowed to make accommodation undground.
Dickie's interactive session on gas attacks brought much amusement when the gas masks were paraded. But this did not undermine the impact the horrors of gas has on the youngsters as shown by the insightful questions asked. Again links to the African campaign were made – no gas attacks but Lettow-Vorbeck notes in his memoirs that the Germans had to drink urine on occasion when water was scarce during their attacks on the Uganda Railway in 1914/5. While men in Europe feared gas, those in Africa feared wild animal attacks and jigger fleas.
Next day we were able to compare trench warfare practices between the different theatres. Newfoundland Memorial Park introduced us to trenches and how these where used in Africa were different. The experience of the Inuit sniper John Shiwak provided a link to how black Africans must have thought when faced with having to shoot white men especially having been taught that this was completely taboo and that for those with a missionary schooling, this was one of the biggest sins ever. I'm not sure exactly how the teachers felt when I asked the young people how they would feel being told to shoot their teachers but it seemed to get the shock, horror and extremeness of the instruction across. Further, less controversial diversity was explored with the Legion of Frontiersmen, Shiwak having been a Frontiersman himself and how fitting that the Princess Patricia's Canadian Light Infantry are linked with the Legion of Frontiersmen still today, whilst the UK contingent is Countess Mountbatten's Own. It's incredible how linked the world is and was – even in the days before technology seemed to rule.
Delville Wood took me to home soil and gave an opportunity to welcome everyone to another country (the land is owned by South Africa unlike other properties which are French loaned). Here we explored VCs and how, although in print all are equal, it didn't work in practice – Walter Tull(not African) was a case in point. I was able to share my new found discovery about Samson Jackson (I'd managed to keep it quiet for 2 days having just discovered the link on my way to join the trip). Samson was a black Zambian who had absonded from his employer, Stuart Gore Brown, when he was supposed to return to Zambia in 1915. He eventually joined the 19th London Regiment and saw service in Europe and Palestine. In 1925 he turned to the stage and became an actor. Watch this space as we try and piece together more about Samson who was originally known as Bulaya.
Remembrance was fitting theme for the remainder of the time at Delville Wood as a brief history of the Museum was given and the latest all-inclusive approach being that the statue at the top of the dome by Alfred Turner was specially designed in bronze which would go black to include all South Africans, not just the two white micro-nations working together to calm the horse. Finally a history of the two-minute silence as thought out by Percy Fitzpatrick saw us move to Thiepval where we put the silence to use to lay a wreath and remember those who had done their bit to make our world a slightly better place. It also turned into a pilgrimage as one young person knew there was a relative's name on the wall. A short moving service was held and recorded for her to take back to her family who had not been before and were unlikely to do so.
I learnt as much, if not more in these two days – not least that the past resonates in so many ways. On the Eurostar back, a trio aged 10 were singing Madness' Baggy Trousers from 1980 – harmonies and all (I asked no questions, I was in such shock), another (white British born) was experiencing his first train trip ever – something I'm used to hearing about in rural Africa where children haven't seen a train or even a bus, but not in the UK. It just goes to show, don't ever make assumptions.
Thank you to all for making this a most enjoyable learning experience for me and for holding your school name so high. The number of compliments you received along the way were well deserved and something to behold. It was a privilege.