Diversity House Celebrates International Women's Day with Ideas Test
Every year Diversity House celebrates International Women's Day. This year Diversity House consolidated efforts by partnering with Ideas Test, another charity in Sittingbourne focusing on empowering communities in the creative arts. The event took place at their venue in the High Street as part of the 'Supporting Women and Girls' (SWAG) programme initiated by Diversity House in 2017.

Preparations for the event commenced with registration on the official International Women's Day website to order the striking merchandise, consisting of purple and white bunting, balloons and wristbands. We knew we were onto a winner by decorating our event with these items. No one could fail to notice our colourful venue as they passed by and actually popped in to join the celebrations on the day.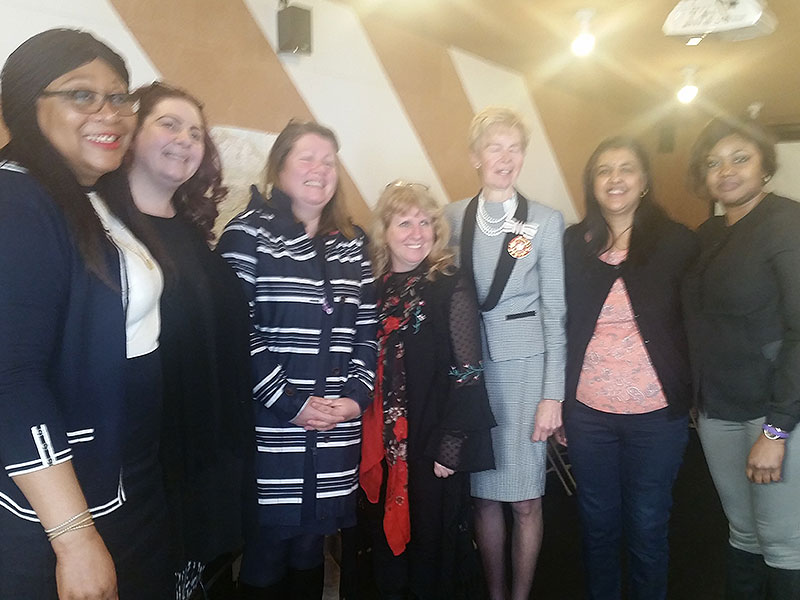 The theme was 'Press for Progress/Be Inspired'. The SWAG team invited motivational speakers from all walks of life covering business, the arts, finance, legal profession, voluntary sector, education and public life to lead discussions and on how their work and actions had led to progress and changed their own lives and the lives of the surrounding communities.

Mrs Christine Locke, the CEO of Diversity House, kicked off with her welcome speech paying tribute to the local women leaders of Kent. Women such as Rose Wylie, the octogenarian British Painter, born and bred in Kent. Marika Sherwood, a local historian and author based in Faversham. Helen Whately, the Conservative MP for Faversham and Mid Kent. Florence Graham, the first Woman Mayor of Swale, The Rev Lesley Jones, St. Michael's Church, Sittingbourne to name but a few. The audience appreciated the message that we don't need to look far to be inspired when women in our own communities are transforming lives.
The packed programme continued with a beautiful rendition of Christabel Mcooey's poem, 'Strong Woman' which set the mood, uplifting spirits. Linda Brinklow from the 'Over 55s Aspirations Group' presented a slide show of her work as a former design teacher in inner London. She talked of the changes she brought to the school, being a woman in a 'man's world' of design technology and of the positive experiences of working in an ethnically diverse environment.
Diversity House beneficiary, Rashmi Raju recounted her story of empowerment entitled 'Starting a Beauty Business from Scratch' with the assistance of the 'Swale Women Empowering Women' programme which is now the SWAG project. Rashmi joined the programme not speaking a word of English and now runs a thriving beauty business which has brought financial security to her family and increased services in the community.
A lively presentation was given by Chris Reed from 'Big Fish Arts' organisation on 'Hundred Years of Voting Rights'. Chris related the stories of women in Sheppey involved in the Suffragette movement and the changes they brought to the area.
Afternoon activities included one to one surgeries offered by various organisations including: Optivo Housing, Swale Community & Voluntary Services, Cerian Eiles, Fundraiser/Manager at Achates Philanthropy and Funding for all Mentor, Claire Haffenden. Participants were given practical advice on how to achieve their goals.
Others were assisted to draw their own vision board to map their future.
The day was rounded off by the Deputy Lord Lieutenant and Diversity House Patron, Mrs Rosemary Dymond's skilful summary of the issues of the day, raising the importance of women leadership, empowerment and progress ending another triumphant International Women's Day.