1st September 2018
Diversity House participated in Royal Air Force (RAF 100) commemorative event on the Isle of Sheppey which celebrated the role early aviators on the Isle of Sheppey played both in the development of aviation and its contribution to WW1.
People from all walks of life, backgrounds, race and diverse communities attended the event – The music and entrainment was supplied by the High Voltage Big Band and St John Ambulance Band and drama by Big Fish Arts Group  and the short address from Deputy Lord Lieutenant Paul Auston.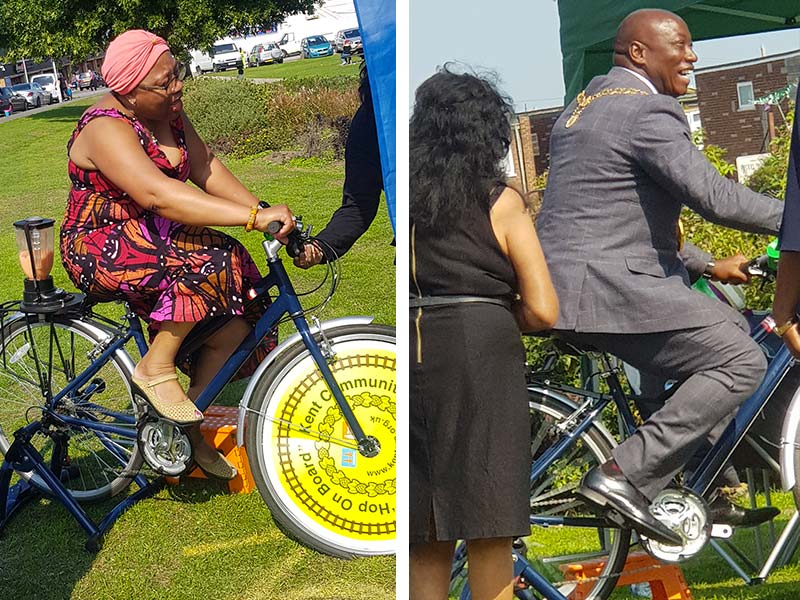 With sunny weather and the community of  Leysdown-on-Sea in high spirits, it was an exciting event that drew hundreds  of people from the local community of Sheppey and beyond. We all came together to share ideas, recall historical events and learn from each other. A vast majority of people were shocked about the contributions Africans played in First World War and in most cases it was the first time they had heard the information.
There was a great activity for young people such as the KC Rail Partnership Swale Rail, which were advocating for people to use more sustainable  ways of travelling around the Kent area, such as on foot, bike or using the train network. They had a fun interactive activity where people used a smoothie maker which was connected on the back of a bike, and when you cycled,  it turned the fruit into a smoothie which you could then drink.
We must add, the smoothie was very yummy, the ingredients were  6 strawberries chopped, half a banana and a splash of apple juice and away you went.
The main feature of the day will be telling stories of individual early aviators, many of whom did not survive into old age. Diversity House showcased and talked with people who visited our stand and shared stories about the global aspect of the early aviators,  WW1 and its impacts and the contributions of Africans. The overall feedback was very positive and it was a great way to create a more inclusive and open dialogue between different communities.
This event was organised by the lovely members of Leysdown over 60s Group and  other local groups comprising of:
Tea Tent

K.C Rail Partnership

Information Point

St John Ambulance

Big Local

Julie Bradshaw

Diversity House

Frances Jermainey

Aviation Museum

Tombola

Water into Wine

Cake Stall

Play your cards right

VIP Area

Sheppey FM

Queensborough M/L