Diversity House with Princes Trust cxk hosted a Careers Day on 26th November 2019, at Phoenix House. It was not a typical Careers Day, our day not only had the inclusion of the usual tables with flyers, there was also Motivational Speeches by the organisations, and Careers Board which had various job roles. Each job role had the inclusion of a definition of the job, responsibilities, grade requirements, and potential employers. It was really uplifting to see everyone networking with the to various organisations, collecting contact details as well as free perks of pens, post-it notes, sporks and whole array of things. There was also a chance enjoy the beverages and biscuits. There was never a quiet moment.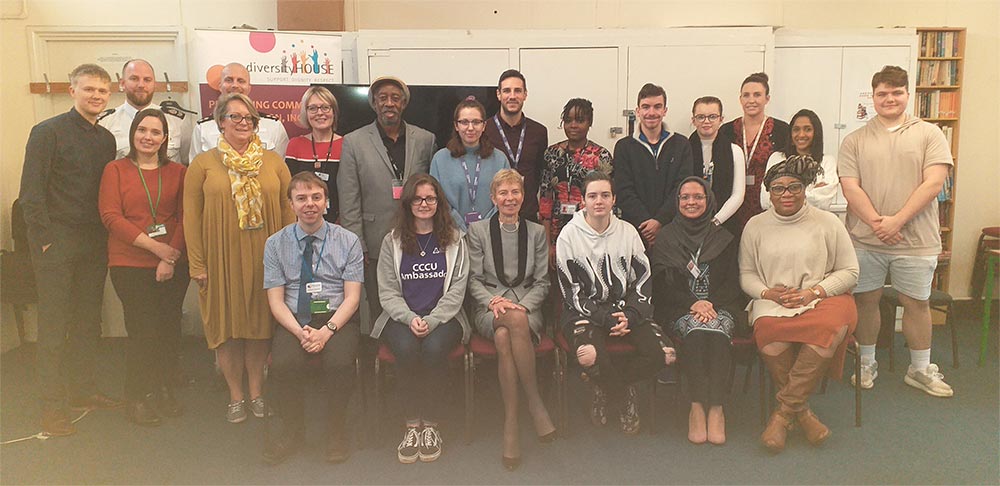 Mrs Christine Locke Chief Executive Officer (CEO) Diversity House
Mrs Locke welcomed everyone, she said young people should absorb the information on this day and grab opportunities available. Christine Locke spoke about her recent tv appearance in the BBC Victoria Derbyshire show. This programme was filmed live in local town of Isle of Sheppey. One issue was that, young people are being blamed for not aspiring, not knowing what career they wanted to go into upon leaving school. This day would really allow for the youth in attendance to be motivated and broaden their employment aspects.
Mrs Rosemary Dymond DL Patron of Diversity House
She was a practising headteacher for over 26 years. She spoke about this role and her passion in education. She would often see her students in the community and found it rewarding return to see them when they were once finding it challenging and were now achieving great things. She spoke about the work with Princes Trust cxk, and welcomed the young members of the audience who were part of this team. She hoped they would become motivated and find there career path here.
Ms Maria Cates. MidKent College
Ms Cates went through various job roles to get where is now a Special Tutor. She learned and experienced many things, getting to know what she liked and disliked doing. Ambitions often change as you discover new experiences. She herself had worked with people with learning difficulties and found it rewarding. This is when she knew she wanted to work with people with additional needs. Ms Cates told us about Functional Skills course available at the College when students did not have the required results achieved. There are always other ways into employment even when grades are not as expected, and individuals disheartened. You only need to inspiration, grit and motivation within in order to succeed.
Steve Gill the Boyz2Men Project Lead
Steve Gill took this opportunity to promote the Boyz2Men project. The project was for both girls and boys. It allowed for young people to be well informed of the negative influences and the impact the detrimental impact. It was also an intervention programme allowing those already know to the justice system to not become adult criminals. The once a week evening session, are a safe space for youth to speak about their issues. The youth will then produce a film, music video, with the help of Big Jam a professional studio. The project also had the assistance of Tony from Kent Film Foundation who alongside Steve helps the youth with anger management, confidence building, mindfulness and more. (If you are interested in this project please contact us).
Kate Dicey sewing tutor
Mrs Dicey facilitates the sewing workshop, where she has been instruction a group of around 10 women how to make various creations. Mrs Dicey a retired English Teacher and now Sewist. She spoke with passion about the progression of the women in the group, who had started with little skill, and then were able to make great creations. She wanted the youth to engage in activities and skills which were practical as well as academic. A workshop attendee was introduced, demonstrating the talent held in the group by her display of an Etui box, to the audience. There was a round of applause at her creation. Everyone was in total awe. There was even one organisation member who wanted to purchase the Etui box.
Ms Charlotte Killick from Go-Train.
Go-Train helped individuals gain qualifications in a range of subjects, from IT, Character Education and Independent Living. There were perks of 6 weeks of learning which equated to the receival of a Fitbit, Tablet Kindle, and a phone. Many learners found the qualifications useful and it opened more opportunities to employment.
Ms Nicole Fernandes of Future Learn.
Future Learn is an online learning platform, which has partnerships with many universities. There are a broad range of topics to choose from ranging from Business, Creative Arts, Nature and Environment, Politics and Environment, Literature, Healthcare and Medicine, STEM, Law, History, Teaching, Language, Study Skills and Psychology and Mental Health. Staff member Krissi was very elated with Future Learn, she had an annual membership. She spoke highly of the organisation and had completed project management course. You can join Future Learn on https://www.futurelearn.com/courses?filter_availability=upcoming use code DiversityHouse2019 for a discount.
Lead Ambassador Dana from Canterbury Christ Church University
Dana began her speech with reassuring the youth. Many had asked her in the interim how would they possibly be able to afford university. She said it was only when graduates were earning roughly over £20,000 that they needed to pay back the loan. This was automatically taken out of the monthly salary. She compared it to a monthly phone bill and if you were earning enough and secured employment through your degree then it was only good you pay it back. Dana went on to explain there were many subjects which could be studied including Harry Potter Studies. University allowed the gaining of specialised academic knowledge and presenting this in a variety of forms. Outside of lecture theatres, there are opportunities to join a wide range of societies and sports clubs. There were also the options of studying abroad and university really allowed for the mixing of people from all parts of the UK as well as abroad. Dana was studying herself she was reading Forensic Science she herself would like to go into police and used the networks on the day. We wish her well in her future endeavours.
Imago Mr Ashley Giles
Mr Giles spoke about his university education and spending time abroad in Equador and various other volunteering he had the pleasure of being part of. This all helped after graduation in that he had the academic and the work experience to land a job. In his current role he assists those with learning difficulties and other special needs.
Swale Means Business Christopher Blanchard
Christopher Blanchard Economic Development Office of Swale Borough Council studied English having an interest in Dickens. The transferable skills he gained in stats, and communication and writing really helped in gaining the employment in his career.
Kent Police Officer
A police officer went on stage and spoke about the opportunities in the police force. There were varying degrees of experiences and jobs in the force. They needed analytical skills, people good with numbers, people good with communicating with others, people who were good and making things. All these jobs which not typical jobs were. The Officer said that there was a work programme which was paid by the police expected in the year of 2020. He said that it was only needed that a level 3 in three A levels, with the subject of study in university not being a problem. This was a great opportunity not to be missed!
Mrs Locke ended the session advising the young people, encouraging them to take the opportunity which they are given. This was an excellent opportunity to get a free education and job security. She said it was good that Swale was a deprived in that it allowed for the funding and opportunities gap to be made. Mrs Locke told the youth not to be discouraged and take opportunities like this and ask the organisations questions and get informed, so they made good choices to gain employment.
If you would like Diversity House to come to you please contact us on info@diversityhouse.org.uk