Dedicated to the Memory the Unsung Heroes and Sheroes of WW1
How does one create an inclusive Remembrance Day celebration? This is the question posed by the 'Breaking the Myths; WW1 & Africa' project when it raises awareness of the contribution of Africans in WW1 and finds ways to properly acknowledge that contribution.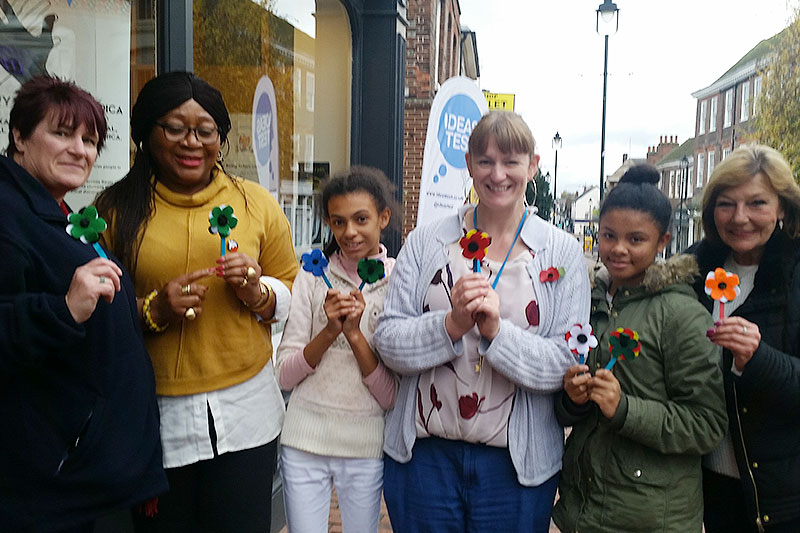 One idea initiated by Diversity House in collaboration with Ideas Test in Sittingbourne was to host a screening of a film that explored the presence of Black British people in UK and their connections to the Commonwealth. The screening was held on Remembrance Day on 11th November 2017 and the film, released by the British Film Institute (BFI) to coincide with the birth of film more than 100 years ago and the run up to the first world-war in the early twentieth century includes rare footage of Black people in this country since 1901 right up to 1985.
Thus old newsreels from the films 'For the Wounded (1915) and From Trinidad to Serve the Empire (1916) offered scarce glimpses of black servicemen during World War One and then clips of men and women in service during world war two. Other images depicted black people from all over the country at work in different industries, active in trade unions and at home in communities that were often not friendly to their arrival.
In contrast, it was interesting to see clips of the African American actor and political activist Paul Robeson being warmly received by welsh mining communities in Wales when he visited the UK in the thirties to make the film 'Proud Valley' produced by Ealing Studios. The film tells the tale of a black miner who moves to the valleys and we see clips of him singing with that famous baritone voice.
Another notable person in the film was a very young Paul Boateng, (now Rt. Hon Lord Boateng), one of the first Black MPs to be voted into Parliament. He served under Blair government in 2002 as Chief Secretary to the Treasury, making double history as the first Black MP to hold a ministerial post.
In the film, we see Boateng, as a young reporter making a documentary about inequality faced by young Black people living in the inner cities of the 70s. The theme is reprised in later footage showing the Toxteth and Broadwater Farm riots of the eighties where young black youths clashed with heavily armed police forces, venting their frustration and anger at the lack of opportunities.
While the adults pondered and reminisced, the children were kept busy making poppies in the colours of the African flags. The poppies and the largest, colourful wreath by Diversity House were laid at the Sittingbourne Cenotaph the next day as part of the inclusive Remembrance Day celebrations.