Supporting Women and Girls ran a Sewing Workshop for 10 weeks, it was so popular that an extra week was added, making it 11 weeks in total. Our workshop tutor was the very regardful volunteer Kate Dicey. A retired teacher, who not only very generously loaned her sewing machines, but also took time out of her week to assist attendees. She and a partner run a costume design business. If by the end of reading this, you or someone you know are interested in joining the sewing workshops for the coming year contact us soon as spaces are filling up quickly.
The course began with the very basics steps of how to set up the sewing machine. As the weeks progressed so did the skills learned. The skills which they learned in the workshops included:
Thread a sewing machine
Creating oven gloves.
Making sewing kit
Etui box
Making and embellishing a Christmas stocking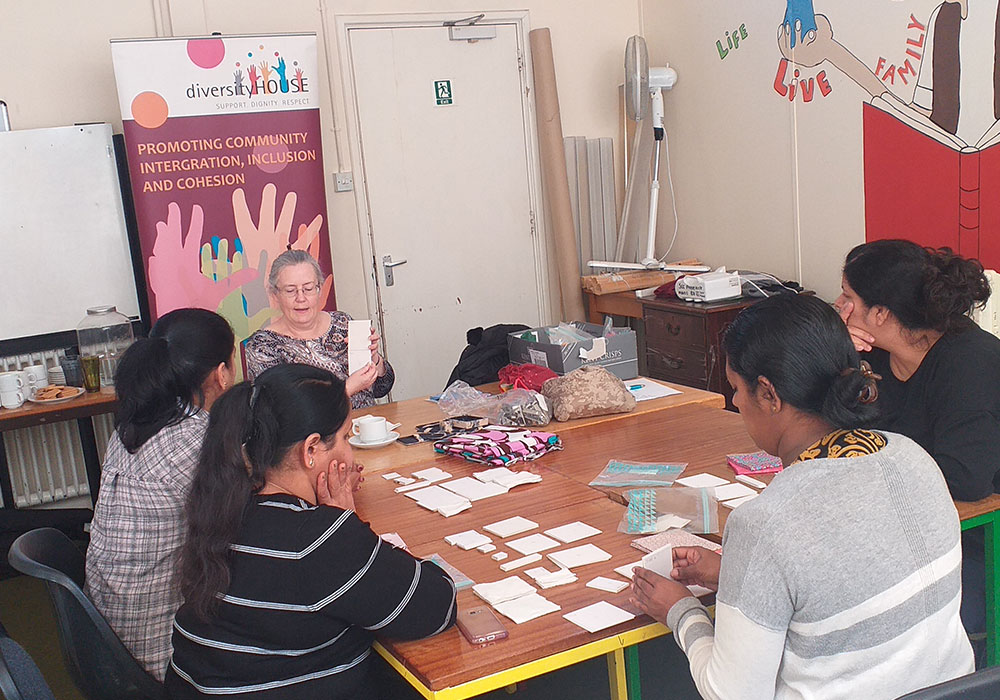 The benefits of learning to sew are numerous.  Here are some of the them below:
STRESS RELIEF:
Sewing takes a deep concentration on one focused activity, this allows for the unwinding of the mind. This distraction away from stressful busy lives encourages positive thought and enhances relaxation. The weekly activity was something which the attendees looked forward to each week, (otherwise they would not have requested for an extension week).
INTELLIGENT:
Creativity is used in the practising of sewing. There is a skill in colour coordination combination. Some attendees were so inspired by this that they took their newfound skill and created their own masterpieces at home. Creativity has strong links with brain growth, it is stated that with the nurturing of creativity brain cells grow.
HAPPINESS:
It was beautiful seeing the attendees chatting away enjoying the moment, with beverage in hand. (Hot drinks and biscuits are provided). The attendees were very pleased to be there! We are always on hand to provide moral and extra care if needed.
PREVENT ILLNESS:
Sewing tests memory, it requires the remembering of specific steps. The mind is kept clear, focused and active. This aids in the prevention of dementia in older age.
INCREASED MOBILITY:
There is a lot of key detailed work which requires hand-eye coordination and the working of nimble fingers. The exercise of the fingers encourages and prevents issues in future.
FEELING OF ACHIEVEMENT:
At the end of the 11 weeks the attendees had a beautiful display of completed projects. The pieces could be taken home and shown to family and friends. The well-deserved positive comments from others really helps boost confidence. Careers day coincided with a sewing workshop; the attendees showed their creation to the organisations on the day. They were all very impressed and some wanted to purchase items.
BUSINESS POSSIBILITIES:
The new hobby can be a way to set up a business from comfort of home. This can be done around other commitments.
MENDING CLOTHES:
If money making isn't enticing, then money saving might be. There is much investment in sewing. Clothes can be costly and become worn out. The making and mending of clothes can be a way to save money from buying a whole new wardrobe. Also, it avoids waste which is a bonus for the planet 😊.
Readers, if you were encouraged to become a participant in our sewing workshop. New sessions begin in January. Please book early to avoid disappointment.
Thank you to the lovely Kate Dicey!