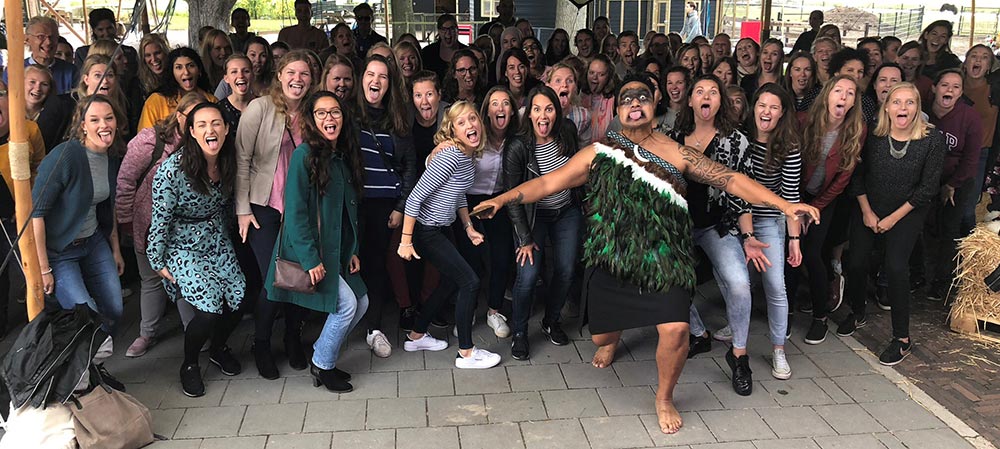 War is a worldwide phenomena and each culture has a very different way of preparing for war. In New Zealand, the Haka
Tell us about yourself and a fun fact?
I'm Sol, originally from New Zealand and have been living in the UK for nearly 13 years. I'm a father of 6, which has its challenges, but it is my favourite job! I got into Haka by playing the role of the "Sun" in a song and from there was immersed into the Maori culture; songs and haka.
What where you doing prior to hosting Haka workshops?
I still work fulltime for a Transport company and I run their Social Media pages. Haka, at present, is my part time but most fun role.
What made you decide on hosting Haka workshops?
I remember hearing about people running workshops based around the Haka and had no idea it would be this much fun! Because it's something I've been involved with since I was a child, I find it easy and it doesn't take too much to think about which allows me to focus on how others are interacting and engaging with this wonderful cultural dance.
Tell us the history behind the haka?
There are hundreds, if not thousands, of haka so I'll tell you the story behind one, famous haka – Tika Tonu (What is right is right).
Tika Tonu may not be well known by name but it was the haka that was done at a wedding and that wedding video went viral all over the world.
It was also written by my Great Great Grandfather, Waimarama Puhara. Which was written for his son, Moana.
It is the story of his concerns he has for his son and that he has been concerned about him for some time. He was concerned about the challenges and troubles his son will face going into manhood. However, he knows that all these problems and challenges, Moana, has the answer to inside of him and will overcome them all.
Who composes the war song?
There are many different composers and each haka will tell a story of love, or honour, protest or conflict. Our NZ Army, Navy and Police all have their own haka. Our schools (in New Zeland) will have their own, and some of our sports teams; usually they are relative to the tribes where they are from or the area where they're based.
Many people are familiar with Haka through rugby, how did the All Blacks come about incorporating the Haka into their pre-game performance?
The Haka was originally a spectacle when it came to rugby, and to be honest, it was done really badly.
It wasn't until the Mid-80s when one of the captains, Buck Shelford, a Maori man had enough and wanted the team to learn it properly, perform it powerfully and use it as a tool to help bring team cohesion and unity.
From then, it's become what it is today.
Apart from rugby what other occasions is the Haka performed?
Anything from weddings to birthdays, birthing ceremonies, graduations, funerals; anywhere we want to show respect or pay acknowledgement to who receives it.
Where can people can people find you on social media?
Well, I'm on Most platforms:
www.Facebook.com/toahakauk
www.Instagram.com/toahakauk
www.Twitter.com/toahakauk
And YouTube under Toa Haka Workshops.
You can see the Haka performed at Diversity House Armed Forces Day celebration on Saturday 29th June.